Natural talents are inherent abilities.
A natural talent is an  ability or aptitude, e.g., a talent  for sewing or cooking.
A talent is something we do naturally. It is something that we do not think about; we just do it.Natural talents are activities you can do or perform that others find difficult to do
Natural Talents varies from one individual to another .For instance ,my gift can be sewing and yours can be cooking.
According to Emily Lambert @Plum, skills and knowledge represent someone's past performance, talents represent potential." A talent assessment is the most predictive way to place people into roles where they thrive,
And accurately quantifying talents will only become more critical in the next few years.
According to Myles Monroe, your talent is your WORK .Your J.O.B(Just Over Broke)is the profession you learned
DOES EVERYONE HAVE A TALENT?
Every human came to the world with a talent.Your duty is to discover your talent,refine it and use it.There is nobody that does not have one or more talents.
The fact that you have not discovered your talents does not mean that it is not there.
Just settle in your mind as you read this that you have some wonderful talents.
This blog post is to help you know that everyone was create with a gift of value.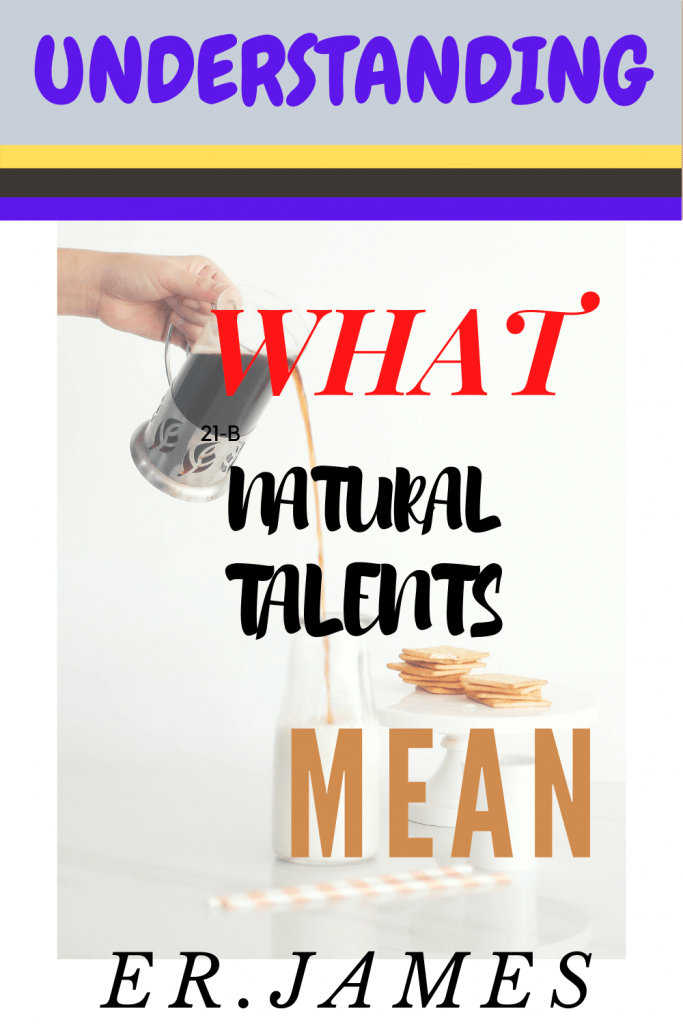 It is in this area of your talent that you should be a leader.Your fulfillment in life is in working in your area of gifting.what ever talents you were born with,remains with you.Above all,Whether you use it or not,it remains with you.
WHAT IS THE DIFFERENCE BETWEEN TALENTS AND SKILLS
Talents are natural abilities.Skills are learnt abilities.What you study in school is His your profession. However ,your profession can be related to your gift .People tend to confuse the two.
learning skills can improve a professional competence.On the order hand,
learning skills related to your talents,is much more useful
In order to fully understand this,check out my blog post on "How to Refine your talent".
In their book First, Break All the Rules, Marcus Buckingham and Curt Coffman differentiate talents from skills and knowledge.
"Skills" refer to the "how-to's" of a role; whether you know how to create spreadsheets with Excel, code with Javascript, or weld.
"Knowledge" refers to "what you are aware of," and can be quantified with a degree or designation, like BA or PhD.
Talents are recurring patterns of thought, feeling, and behavior. In other words, talents come naturally to you. Whereas skills and knowledge quantify past performance, talents quantify potential
WHAT ARE THE EXAMPLES OF NATURAL TALENTS
I came across a list of natural talents that people have, compiled by by Michell hartzell.
Going through the list can help you identify your talents.
If you have a challenge identifying your talents,this list is the answer.
WHY SHOULD YOU IDENTIFY YOUR NATURAL TALENTS
In today's economy,people lose their jobs every day. You could have a high paying job today.
Tomorrow,the company might go bankrupt.You might be among those laid off.
Maybe your boss just does not like your face.and and may sack you without notice.
NOBODY CAN SACK YOU FROM YOUR TALENT!
Your talent is your source of significance.It is what makes your life have meaning.
What made Tiger wood Significant?It was not his education .It was his his talent to play Polo!.What made Micheal Jackson significant?It was his gift of of singing and dancing!
Whatever you are meant to become is tied to your talent.The power to become the real you lies inside of you not outside.
Now that you know what talents are ,it is time to discover your gift.
I have a practical blog post on "5 ways to discover your talent" .Above all when you find your gift,you can make it any where in the world.
IN CONCLUSION
Discovering your talent,refining it,and using it, will make you significant,unique and original.
.